Our store contains some of our favorite landscape accessories and tools as well as some original products produced by Naylor Landscape. Give us a call today at (330) 650-4251 or (440) 975-8282 or click this link to contact us regarding ordering information and to answer any additional questions.
Our online store is currently being renovated so we are unable to take online orders at this time, Please contact us for assistance.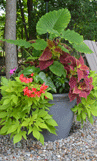 NutriPot: Self Watering Planter
Starting at $450 shipping included
NutriPot: 20"-48" pots with a 4-9 gallon reservoir to supply moisture and nutrients to your plants as needed; extending time between watering 3-8 weeks depending on climate conditions.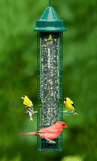 Squirrel Buster Bird Feeder
Feeds birds, nothing else.
$48 shipping included
This marvelous invention includes a spring loaded perch that closes off the feeder when anything heavier than a bird attempts to feed from it.