Our Five Application Program Guarantees a Healthier & Greener Lawn and Landscape

Our highly trained technicians use a calculated and proven system to take your lawn to the next level. Our lawn care products are EPA approved and we practice Integrated Pest Management so we aren't using excessive product or damaging turf. This is the level of care you can expect for your lawn and we back up every full service customer with free service calls in the event a weed manages to poke through.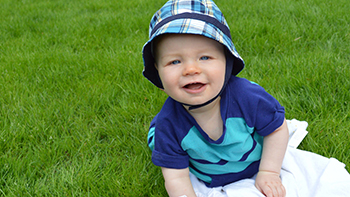 Why choose Nutrilawn as your Professional Lawn Care Company?

Licensed technicians to care for your lawn & landscape
Persistent weed control each application to keep weeds out of your lawn
A customized program tailored to your lawn & budget
We are passionate about perfection and will do whatever is necessary to exceed your expectations
A local, family owned and operated company based in Macedonia & Hudson, Ohio since 1973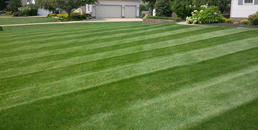 First Round

We begin your lawn services with a mid-March fertilization and pre-emergent treatment to prevent crabgrass and select other weeds from taking root later in the season. Our "Mini Pearl" product is not used by most companies due to the added cost but it allows us to get much better control over these invasive weed grasses.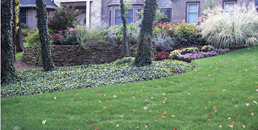 Second Round

A healthy dose of granular slow release granular fertilizer takes advantage of spring rainfall to boost growth and promote color. We now begin spraying for broad leaf weeds as Dandelions and Clover may be poking through.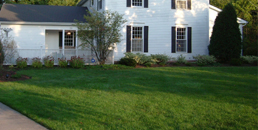 Third Round

Late spring and summer weeds will try to invade your lawn so another application of liquid weed control goes down as well. Insects such as cinchbugs and sod webworms are now in season so an application of insect control may be needed. The third round fertilization helps promote root growth and rich green color with proper watering.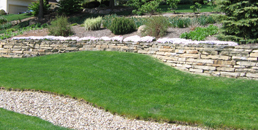 Fourth Round

Our fourth application includes weed control and another dose of granular fertilizer. We are also on the lookout for insect and fungus damage that tends to show during this part of the year.

Fifth Round

The last application of the year readies your lawn for the cold winter ahead and promotes healthy root development through the month of November. The late fertilization also helps your lawn green sooner the following year. This is also the time to put down lime to regulate pH.
Additional Lawncare Services
Sometimes additional treatments are necessary to keep your lawn lush and full. These treatments, although not included in our standard program, may be needed to get the most out of your lawn areas. Your technician will let you know if your lawn needs any of these specialized treatments.
Disease & Fungus Control
Funguses such as Red Thread & Dollar Spot can rob your lawn of its color and cause lasting damage. Our fungicide treatments restore damaged turf and brown spots.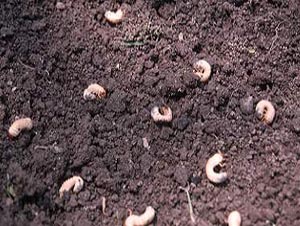 Grub & Surface Insect Control
Grubs live and feed on your lawns delicate root system. If required, we apply a special product with your second round treatment that stops the grubs, chinchbugs, & many other harmful insects in their tracks.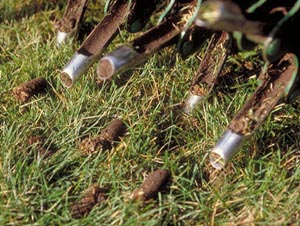 Core Aerification
Compacted soil and heavy thatch suffocate your lawn, preventing water and nutrients from reaching the root zone. Aeration uses a specialized machine to pull half-inch plugs from your lawn to promote deeper roots and thicker growth.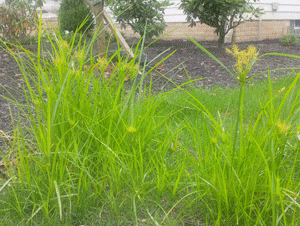 Weedgrass Control
Lawns look the best when they are consistent and full. Nutsedge, Creeping Bent, and Tall Fescue (among others) outpace normal growth and ruin the appearance. We carefully apply products to remove these nuisances.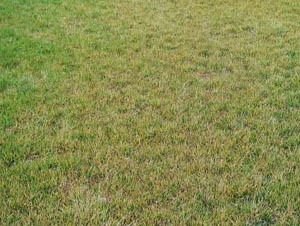 Lime: pH Control
When your lawns pH is too low the acidity of the soil prevents fertilizer and other micro-nutrients from being absorbed by the turf roots. We apply lime to raise the pH to allow nutrient absorption.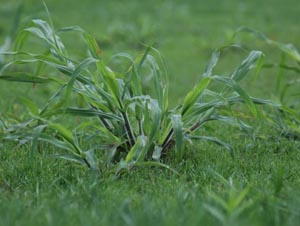 Crabgrass Control
Crabgrass treatments are included in our five application program. This weed-grass begins as a light green mass of horizontally oriented growth coming from a central core. As it grows, the color darkens substantially.
We use a "mini-pearl" product instead of the less expensive and larger granules which allows for a more even and complete crabgrass barrier.

For your convenience, our services continue from one season to the next. Please contact our office for any changes to your program.